Brands are not paying for orders, meaning workers don't get their wages.

Global fashion brands have refused to pay for over $16 billion worth of goods since the outbreak of COVID-19. When the pandemic hit Europe and the US, and more and more stores were closed, brands and retailers responded as they usually do: by pushing the risk down the supply chain. They did this by cancelling all orders placed before the crisis - some of which had already been shipped. This financially devastated factories since they had already had to pay for fabric and other production costs for these orders. Many were left with no money to pay workers' wage.

After public outcry many brands decided to commit to paying orders, fulfilling their contractual and legal obligations. However many more continue to refuse to pay, or negotiate large discounts and cause payment delays. Suppliers do not have the profit margins to survive this kind of financial insecurity. Garment workers are suffering the most. You can read more about how brands' irresponsible and selfish actions have affected garment workers on the #PayYourWorkers campaign page.
Keep an eye on the Worker Rights Consortium brand tracker to see what your favourite brand is doing.
TAKE ACTION: Tell brands to #PayUp !

This month our network calls out Edinburgh Woolen Mill (owners of Peacocks and Bonmarché) who have been intimidating suppliers in addition to refusing to pay for orders in full. But don't let their underhanded tactics distract you from the issue: that brands like EWM need to #PayUp. You can use the tweet templates below:
Hi @peacocks @bonmarche @ewmonline, I'd like to know why are you STILL refusing to pay your garment workers when other brands have decided they will be paying what they owe? It's been 8 months now!! #PayUp #PayYourWorkers - Click to tweet

Just a reminder that the owner of @bonmarche @ewmonline @peacocks is a billionaire who lives in Dubai and owns a castle, and refuses to pay garment workers their wages – during a pandemic. #PayUp #PayYourWorkers - Click to tweet

If @ewmonline is so concerned about is reputation, maybe it could consider stopping its garment workers from starving and actually paying them their unpaid wages? cc: @peacocks @bonmarche #PayUp #PayYourWorkers - Click to tweet

Hi @bonmarche @peacocks @ewmonline , it has now been 8 months and you still have not paid your garment workers their wages, just to save your own backs. How do you expect them to survive?? #PayUp #PayYourWorkers - Click to tweet

You can find more twitter examples here, and make sure to sign the War on Want petition on Peacocks.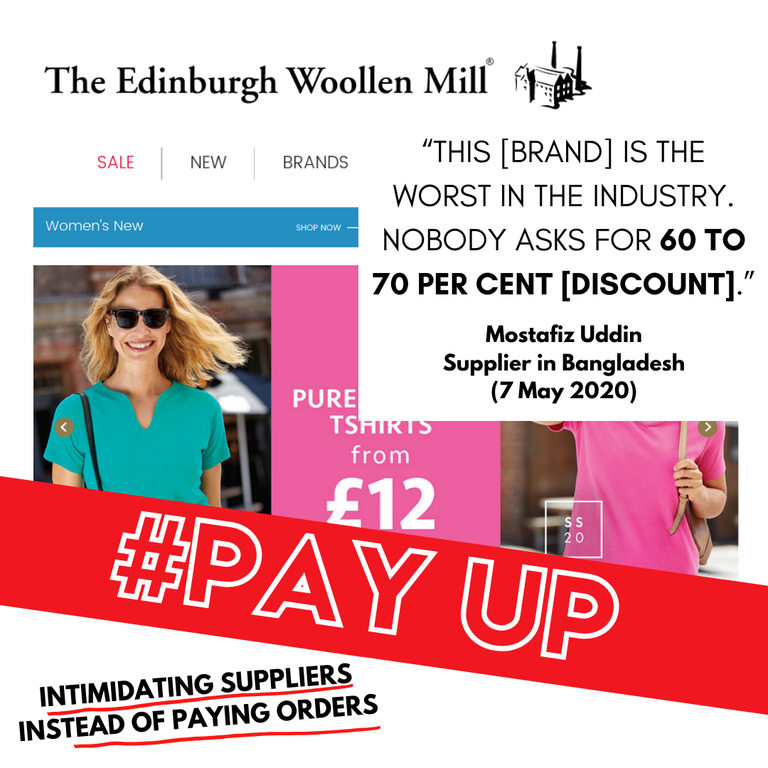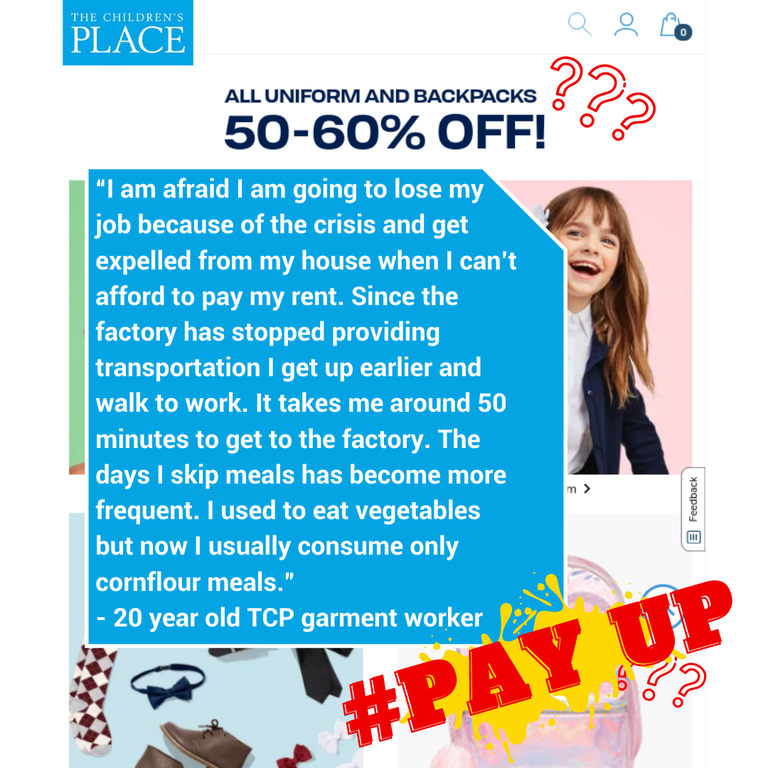 Speak up: Sign a petition!
Tell brands that their behaviour is not acceptable. They need to #PayUp on orders and ensure their workers are paid and protected during this crisis.
A range of petitions in and outside our network is calling upon brands to do the right thing:
Remake focusing on global brands.
Labour behind the Label focusing on UK brands.
Oxfam Australia focusing on Australian brands.
Green America focusing on US brands.
Public Eye (German/French) focusing on all brands.
Abiti Puliti (Italian) focusing on all brands.
Traidcraft focusing on UK brands.
War on Want focusing on UK brand Peacocks.
The ILO call to action
The ILO call to action calls for actors from across the global garment industry to support manufacturers through the economic disruption caused by brands during the COVID-19 pandemic.
It aims to ensure loans will be secured to enable employers to pay wages, and/or to enable governments to provide facilities that will enable employers to pay wages, or to pay income directly to workers. That is a good thing, but it is not the same as ensuring funds are used for the actual full payment of wages, or ensuring that these are paid in full.
The ILO Call to Action does not set wage related targets, nor does it provide any enforcement mechanisms or consequences for signatory brands if workers in their supply chain do not receive income support. It also only covers 8 countries. There are hundreds of thousands of people who are not included in this program. It simply doesn't go far enough. The wage assurance builds on the foreseen outcomes of the ILO call to action, filling the gap when worker lives are at stake.