Supporting a national minimum wage increase to 23,000 Taka
The minimum wage for garment workers in Bangladesh is being revised for the first time in five years. Unions in Bangladesh are calling for the minimum wage to be increased to 23,000 Taka per month.
What is the problem?
The Bangladeshi government has formed a Wage Board to revise the minimum wage for the country's RMG (ready-made garment) sector, which employs roughly 4 million garment workers. The current minimum wage of 8,000 Taka (approximately $74) was already insufficient for a decent living when it came into force five years ago, in 2019. Since then, workers had to endure the additional pressure of the Covid-19 pandemic and the subsequent high inflation without seeing their wages increase at all.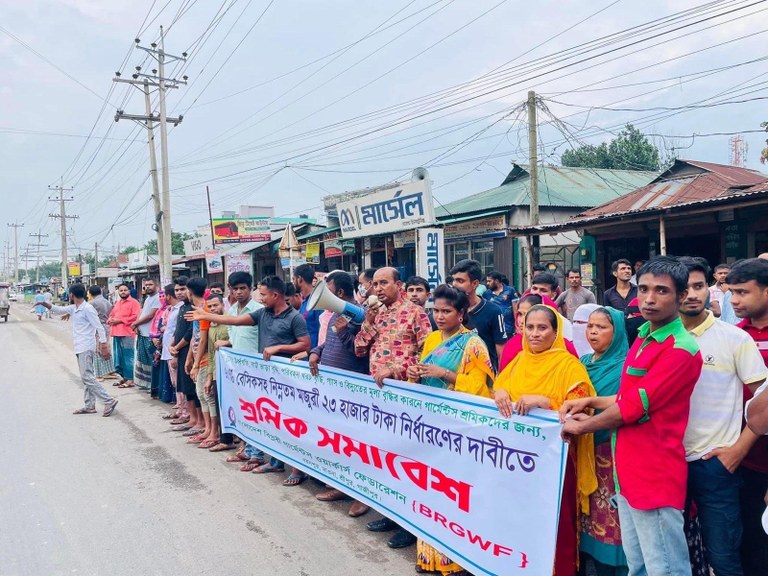 Who needs to act?
Some of the brands sourcing from Bangladesh that have remained painfully idle on the issue, despite public commitments towards paying living wages to workers in their supply chain, are: 

Asos
C&A
H&M
Lululemon
Marks & Spencer
Primark
Zalando
Uniqlo
New Look
Next
Bestseller
Esprit 
Aldi
The disappointing failure of the above brands to support the bare minimum that the workers need to live a dignified life sheds serious questions on the integrity of these brands' living wage commitments. Should any brand from this list, or any brand not listed above, decide to publicly support the 23,000 taka demand and commit to absorbing the increased cost of wages, and would like to see this reflected on the above list, please email a link to your public statement to annebienias@cleanclothes.org.
In contrast, brands that did take a public stance on the current minimum wage revision include G-Star, Inditex, Tchibo, OVS, Puma, Patagonia and Carrefour. Patagonia was the only brand explicitly supporting the 23000 Tk amount demanded by independent trade unions.
Some industry associations and multistakeholder initiatives have also published statements related to the minimum wage revision. Among them are the Fair Wear Foundation (explicitly backing the 23000 Tk trade union demand), ACT, AAFA and ETI/FWF/Amfori/FLA/Mondiaal FNV.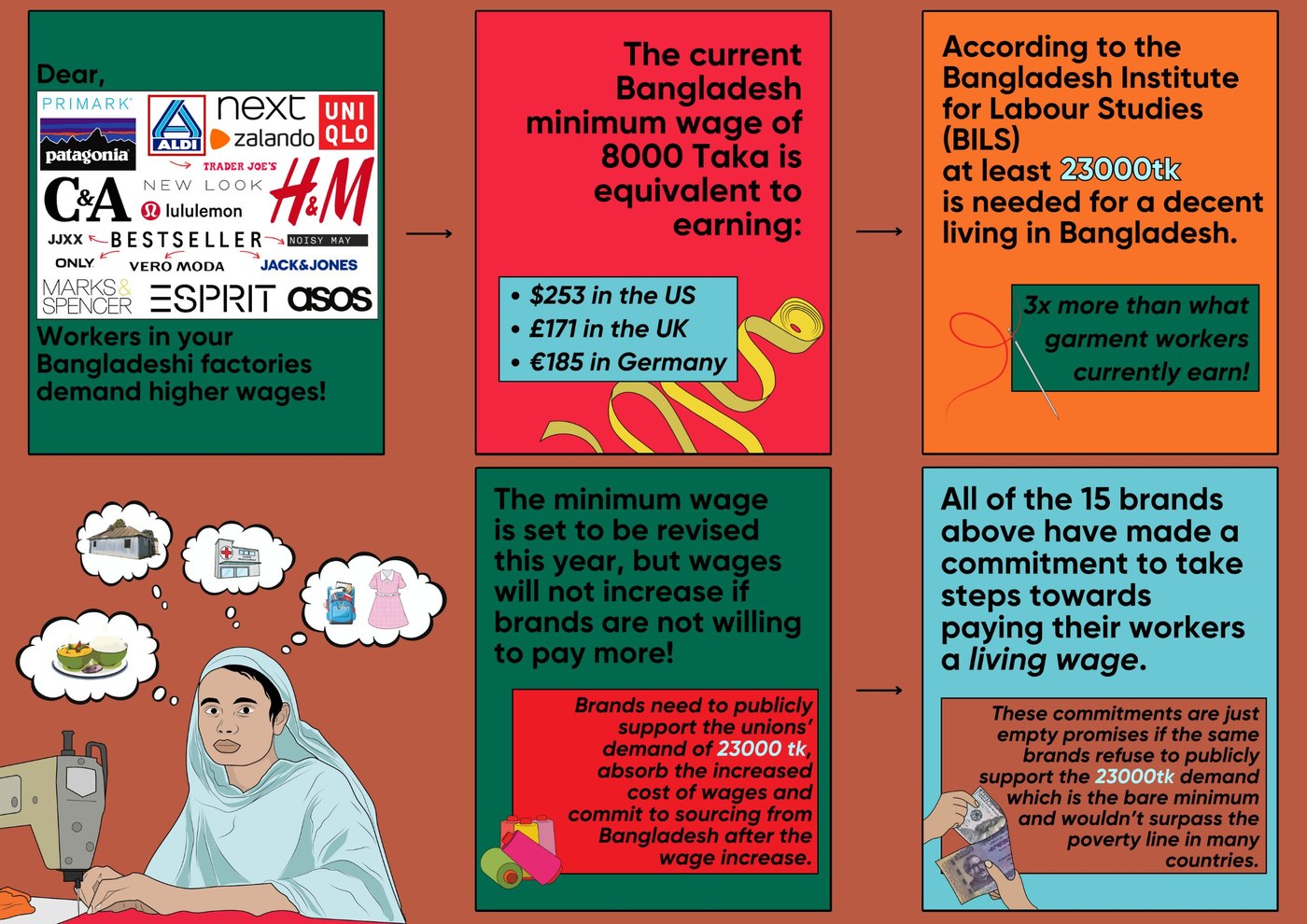 Background
This year's minimum wage revision takes place at a difficult time for the Bangladeshi labour rights movement. The recent murder of trade unionist Shahidul Islam is a stark reminder of the incredibly repressive environment in which wage negotiations take place. In the past, the minimum wage revisions led to a shocking amount of turmoil. In 2018, one worker was killed, dozens were left injured, and thousands lost their jobs. 

Clean Clothes Campaign stands in solidarity with unions in Bangladesh fighting for a higher and more just minimum wage. We urge all involved parties to respect the right of trade unions to peacefully and collectively campaign for their wage demands. 

Earlier this month Clean Clothes Campaign demanded justice for Shahidul Islam and asked the Bangladeshi Government, the BGMEA and the brands sourcing from Bangladesh to support the 23000 Taka demand during the "Best of Bangladesh" event in Amsterdam. BGMEA has since called for the support of buyers, unions and consumers in adapting the new minimum wage. Watch the video below.
Please refer to our background document to learn more about the 23,000 Tk demand and current purchasing power of garment workers in Bangladesh.
Q&A
How was the 23000 taka demand calculated?
The new minimum wage demand of 23,000 taka (212 USD) has been calculated based on the extensive cost of living study done by the Bangladesh Institute for Labour Studies. It has been supported by trade unions in the country as well as the IndustriALL global union. This independent research shows that 23,000 Tk is the minimum amount required to support a family in Bangladesh. 

What if the Wage Board establishes a minimum wage lower than 23000 taka?
Any wage below 23000 taka will force workers to either work excessive overtime, continue taking out loans, or continue to compromise on their nutrition to be able to pay bills. It is also prevalent that insufficient income forces garment workers to pull their children out of school and into work, therefore perpetuating child labour. The wage of workers in the Bangladeshi garment industry has remained the same for five years; it has not been adjusted for inflation or increased costs for basic goods, making it harder for workers to support themselves and their dependents year after year.

Why should brands speak up on this issue? 
In an industry as competitive as the garment industry, countries whose economies rely largely on garment exports are typically hesitant to increase wages in the sector out of concern that brands will begin placing their orders in places where wages remain low. For this reason, Clean Clothes Campaign urges brands to show their long-term commitment to the Bangladeshi garment sector by publicly supporting the workers' demand to raise the minimum wage to 23,000 Tk. We also urge brands to commit to absorbing the increased cost of wages in their purchasing price and commit to sourcing from Bangladesh after the minimum wage increase. Since brands are on top of the supply chain and, therefore, profit the most from the labour that is put into the products they sell, they have a responsibility to ensure these workers earn a wage that is sufficient to cover basic needs.

How can I support this campaign?
If you are a supporter of our campaigns, you can leave a comment on our social media tagging the brands listed above with the hashtag #23000tk. If you are an ethical fashion campaigner or a person with significant social media following, please contact bogu@cleanclothes.org to discuss how you can get involved. If you are a journalist who would like to cover the Bangladesh minimum wage fight, please email po@cleanclothes.org to join our press list.