We'll tell you what we want, what we really, really want: freedom, safety and a living wage for garment workers
Women working for 35p (US$0.45) an hour, stringing up 16-hour shifts, chasing production targets of thousands of pieces per day, coping with verbal abuse and harassment from their supervisors: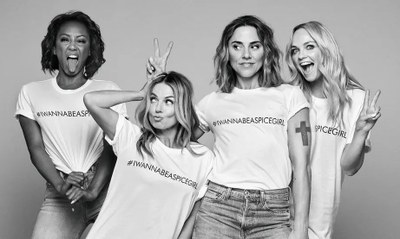 There is every reason to be outraged about the Guardian's recent revelations that workers in the factory where Spice Girls t-shirts are being made to raise money for the British charity Comic Relief face poverty wages and inhumane working conditions
In fact, there is every reason to be outraged about wages and working conditions in Bangladesh overall. There is plenty of evidence of ruthless exploitation taking place in a vast portion of the 4,500-plus garment factories in the country. The majority of the 4.4 million workers powering the country's garment industry live in deprivation, despite the long hours they spend in the factories.
These claims stand on hard facts – in contrast with the rosy picture that some prominent factory owners and politicians are now trying to paint. To paraphrase the response to the Guardian's reporting that was published in Bangladesh's leading English-language newspaper the Daily Star: western correspondents and campaigners are painting an exaggerated picture of the exploitation and poor working conditions, while obscuring all those who cheerfully work behind their machines and joyfully celebrate their new lives of abundance.
Such claims can only be made if one is starkly out of touch with the reality of living on a poverty wage. The lengthy and highly problematic process of the minimum wage revision in Bangladesh resulted in a new monthly minimum wage for the lowest grade garment worker of 8,000 taka (approximately US$95) per month in December. This is half the amount that Bangladeshi unions had united on, and far from any credible living wage calculation. Once inflation and other relevant factors are taken into account, the revision has made practically no real difference.

Of course, there are workers who make more than the minimum wage, but that does not mean they are anywhere near being able to support decent lives for themselves and their families. For example, H&M's own data on average wages in its supplier factories in Bangladesh shows that workers making H&M clothes on average make more than the minimum wage but will never get a living wage if H&M stays on the 2015-2017 course. It is also notable that H&M sources from the same supplier as Spice Girls, Interstoff Apparels, which means that its data on average wages obscure that a sizeable portion of the workers receive drastically lower wages.
Big brands should take the lead
Here at Clean Clothes Campaign, we have been focusing on H&M in our #TurnAroundHM campaign based on a specific living wage commitment – because we do agree with employers in Bangladesh on one point: garment brands, i.e. the buyers of the products that garment workers make, have a big role to play in changing the whole industry. For one thing, the prices they pay for the garments, and their general purchasing practices, largely determine the employers' ability to pay decent wages.
So far, the major garment brands that wield the most power have refused to take direct action that would increase workers' wages in their own supply chains without delay – and plug the big holes in workers' budgets.
Indeed, the mass exploitation of cheap labour is currently embedded in the business model of big garment brands. Taking decisive action would demand reaching deeper into the profit margins and cutting a bigger slice of the pie for those whose hard labour is behind the T-shirts, sweaters, jeans and everything else that fills the shelves in their glossy shops.
Yet, while pointing out the same core issue as campaigners, employers in Bangladesh have been refusing to come forward with clear break-downs of the costs that go into a piece of garment and with a clear indication of what paying a living wage would mean for the prices they charge for the garments.
Another thing that employers have been doing – with help from the police – is heavily targeting the workers who have dared to speak up for themselves and their poverty-stricken families.
In practice, that has meant the aggressive, and frequently outright violent, repression of workers' fundamental right to protest and organise. In protests this January that were sparked by the pitiful new minimum wage, police used tear gas, rubber bullets and water cannon, killing one worker and injuring over 50 people.
Dozens of workers have been arrested and now face trumped-up charges that could lead to lengthy prison sentences. Factory owners themselves have fired and blacklisted thousands for workers for participation in the protests.
Those who kept their jobs are now back at their sewing machines and other work stations, toiling away to power the industry that contributes over 80 per cent to Bangladesh's total exports and is strongly intertwined with political elites.
Earlier this month Clean Clothes Campaign sent these factory owners, and the government of Bangladesh, a clear sign that the world is watching and demands change.
Through online campaigning (#WeStandWithGarmentWorkers #FreedomSafetyLivingWage) and protests at Bangladeshi embassies activists, unionists and consumers called for a living wage, safe factories and an end to the repression against garment workers.
It is high time we all convert our collective sense of outrage into concrete actions.
We all need to reject vague promises of better times at some unknown point in the future.
We all need to demand that governments, employers and brands all do their share to ensure decent and safe working conditions in every garment factory – now.
February 28th, 2019