Clean Clothes Campaign is looking for a
Chair of the board of Clean Clothes Campaign
Based in the Netherlands. Note: this is a voluntary (unpaid) position.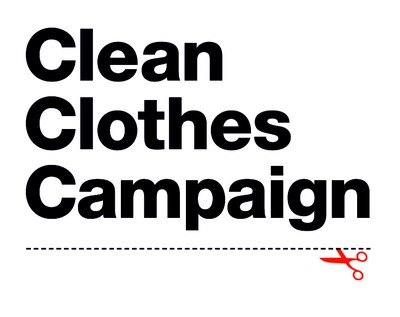 We're looking for a chair for the board of Schone Kleren Campagne / Clean Clothes Campaign (SKC/CCC). Our preference is for someone with a broad organisational background and international experience, gained at a non-profit or semi-profit organisation.
SKC/CCC is committed to diversity and inclusion. We stand for an open culture, where everyone is supported to fulfil their full potential. Therefore, we strongly encourage people of diverse ethnicity, gender expression, sexual orientation, religion, ability, age or other marginalised backgrounds to apply for this vacancy.
The organisation
The SKC/CCC Foundation is dedicated to improving working conditions in the global garment and sportswear industry and supporting the empowerment of workers, most of whom are women. The CCC global network consists of more than 230 trade unions and NGOs, both in consumer and production countries. As a network we are committed to a shared Global Strategic Framework and cooperate in global working groups, as well as through national and regional coalitions. You can find more information on our recent campaigns and advocacy work, as well as our vision, mission and principles, across our website.
The foundation has been around for over 30 years and has a special structure: there is no hierarchy, decisions are made on the basis of consensus, and everyone has the same salary. There are 28 employees, of whom 24 work from the office in Amsterdam and 4 from Brussels.
The unremunerated board has certain decision-making power in the field of finance and personnel and, in other matters, it follows the substantive and policy choices of the organisation and the network.
The organisation operates in a very dynamic and challenging environment. This requires a flexible attitude and the ability to improvise both from staff and board members.
The chair is one of five members in a board that operates in a collegiate way. The enthusiasm of the employees for the work and the commitment to the garment workers are great.
Chair of SKC/CCC
The board of SKC/CCC consists of five members. Each member has a focus area: finance, HR, legal and general affairs.
Tasks:
Chair board meetings (4 to 6 times a year);
Coordinate the various board tasks;
Represent the foundation when required.
The time required for these tasks is highly dependent on the circumstances. To give an estimate:
4-6 meetings per year, these usually last 2.5 hours;
Preparation time for these meetings is about max. 2 hours at a time;
And some additional hours for ad hoc tasks between meetings and keeping in touch with the organisation.
Profile:
Fluency in English, Dutch desirable;
Connecting style of collaboration;
Decisive;
Knowledge of network organisations;
Interest in dynamics and decision-making processes in a flat organisation;
Affinity with the objective of the organisation;
Preferably a broad and relevant network;
Management experience in the non-profit sector or another relevant sector such as politics or union is a plus;
Able to maintain an overview;
Living within reasonable travel distance from Amsterdam.
For more information you can contact Yolanda Weldring, HR board member, at yolanda_weldring@yahoo.com or Christine Slagt, HR Coordinator, at christine@cleanclothes.org
Please send your application with CV and motivation letter no later than Sunday 4th of June 2023 through this link: https://skc-ccc.homerun.co/chair-skc-ccc/en/apply
The first round of interviews will be held on June 22nd at our Amsterdam office.